One of the founding principles of circular design is that all materials should be considered potential resources.
Embracing this idea, the Guiltless Plastic Initiative calls for a creative and mindful approach to plastic with its international competition: the RO Plastic Prize.
This prize invites to look beyond plastic as the problem, approaching the issue with a positive mindset.
In short, the solution to plastic pollution is twofold. On the one hand, eco-friendly alternatives are required to avoid using even more virgin plastic. On the other hand, all the existing plastic should be repurposed before it reaches the ocean.
Let's look at 5 interior-related ideas taken from the finalists' shortlist!
Trash to décor
Designer: Kunst-s by Lisanne Kamphuis
Category: Industrial Design
Can trash become decorative? Absolutely yes, and I'd add very elegant too!
A proof is in this collection of vases that, despite looking like marble, are made entirely out of everyday plastic trash (polypropylene), with approx. 3 kilos of waste going into each vase!
In this way, plastic goes back into the homes where it became trash, but with a totally different value: something to admire and showcase.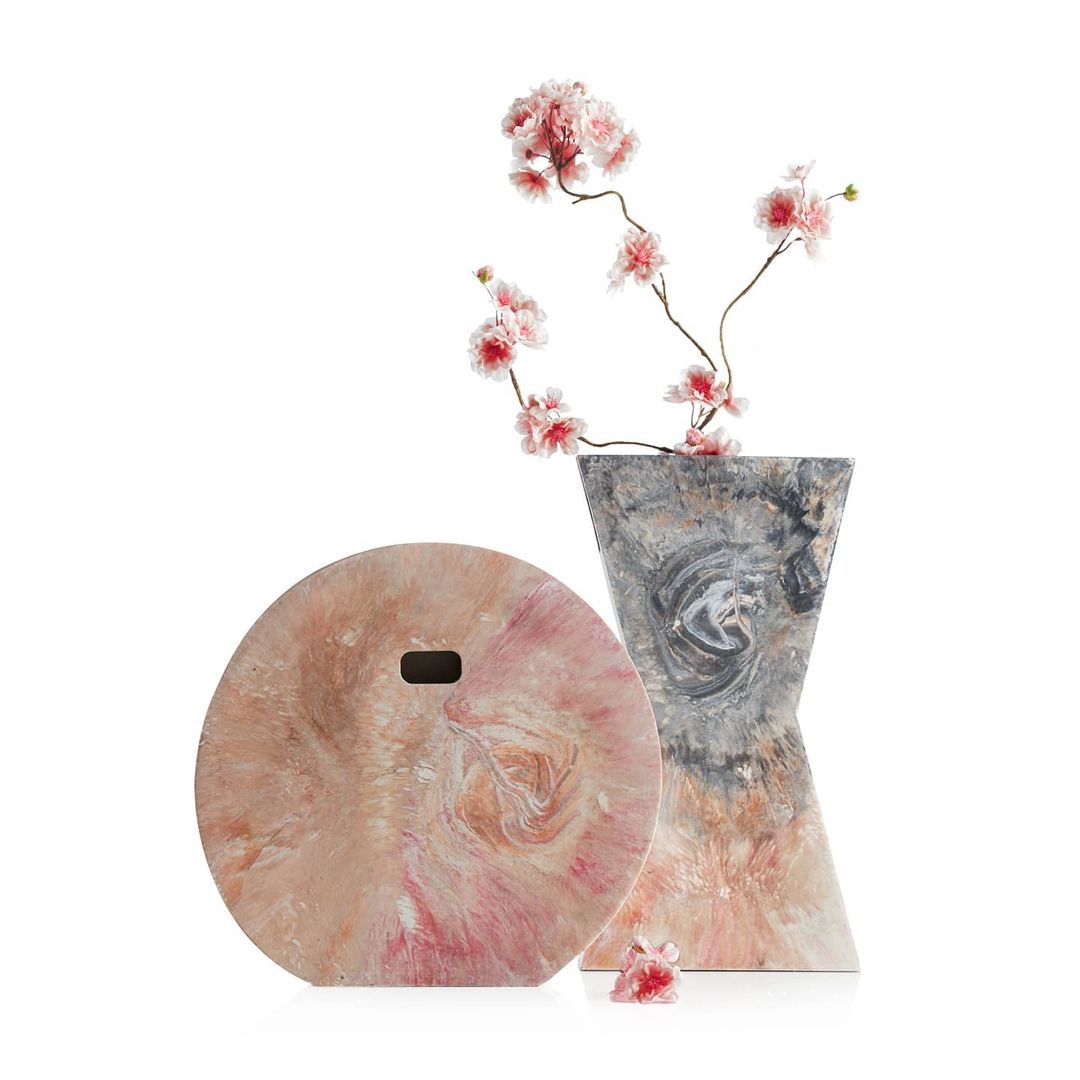 Recycling, again and again
Designer: DMNTS
Category: Industrial Design
NESTEP is a manifesto of circularity in design.
Its raw materials are manufacturing scraps sourced from a company – Gees Recycling (opened in a new window/tab) – that in turn transforms fibreglass trash (production scraps + end-of-life waste) into panels for interiors.
A second-generation reuse project proving how the same materials can have many lives in many different forms!
Building with plastic trash
Designer: Ecoact
Category: Innovative Conscious Project
Winner of its category, this inspiring project transforms plastic garbage into a building material.
Using a chemical-free and energy-conserving technology, plastic is extruded into poles that can then be used as-is or assembled into furniture and even buildings!
Creating an alternative to wood timber, this "plastic timber" is also contributing to forest protection, reusing existing materials instead of sourcing virgin ones.
Cleaning the ocean from fishing trash
Designer: Bluecycle
Category: Industrial Design
Second Nature is a collection of indoor-outdoor furniture that's 3D printed out of plastic trash generated by the fishing industry.
The process relies on a network of local (Greece) environmental NGOs, fishermen and plastic manufacturers that provide their plastic trash.
This ambitious project has won the 1st prize in its category by achieving a local circular economy loop through the power of collaboration!
Stepping onto recycled plastic
Designer: Kristine Five Melvær for Heymat
Category: Innovative Textiles
Heymat+ is a collection of doormats whose 3D patterns are inspired by nature (waves, sand and grass).
Made with 100% post-consumer PET bottles, these mats are conceived for outdoor use, thanks to their high absorbency.
A personal note
This year I had the incredible pleasure and honour to be among the finalists of the RO Plastic Prize with my project SforSustainable.
My aim with this platform is to create an accessible and practical resource for anyone (professionals and beyond) wanting to discover sustainable options for interiors, while digging deeper into the multi-faceted meaning of the term sustainability. And one of the things I've been learning through the process is that someone's trash can truly become someone else's treasure...be it plastic or any other so-called waste material!
update: SforSustainable is now riivin (opened in a new window/tab): a new and improved platform!