Milan Design Week 2019 is approaching and I'm starting to make my itinerary for the week (while choosing which shoes will support my feet during this marathon!)
This year's edition of Milan Design Week is particularly focused on sustainable and circular design.
And there are also some interesting connections with biophilic design. In short words, there are quite a few events I've put on my list!
Ready to see them? Let's start!
1. Tortona Design District
The Power of breathing
Event aimed at discussing the topics of air and water quality. It will showcase several solutions from tools to measure indoor air quality to purification strategies that employ fascinating technologies like nanotechnologies and phytoremediation.
Where: Via Savona 52
Read more about "The Power of breathing" (opened in a new window/tab)
Join by Norwegian Presence
Exhibition of sustainable furniture and other craft objects produced by 21 Norwegian designers and artists. In particular, the participants have been asked to consider the sustainability requirement in its broadest sense.
The products exposed will not only be sustainable in terms of materials and use of resources, but will also represent the consideration of democratic and inclusive processes and a reflection on the needs of future generations.
Where: Via Savona 35
Read more about "Join by Norwegian Presence" (opened in a new window/tab)
Navigli Colors
Exhibition about sustainable finishes curated by La Rivista del Colore. Besides showcasing the performance of sustainable finishing materials in terms of colour and perception, the event will be the occasion to discuss this topic, which is more commonly addressed in the B2B environment.
Where: Alzaia Naviglio Grande 66
Read more about "Navigli Colors" (opened in a new window/tab)
2. Brera Design District
Sustainability is at the heart of Brera Design District this year, with the concept "Design your Life: the sustainable and conscious planning of one's own choices".
The idea is that re-thinking our personal choices in life with a design perspective will make us happier. As an example, mistakes are an integral part of any design process and are seen as an occasion to learn and progress. In daily life instead, mistakes are often seen as fatal and inacceptable.
MateriAttiva
This event – created by Iris Ceramica Group, SOS (School of Sustainability) and Mario Cucinella Architects – will present new ceramic products that absorb harmful VOCs (Volatile Organic Compounds) from the air. The focus of the installation will be the connection between humans and nature. In these terms, these innovative products are seen as precious tools to improve the quality of the spaces we live in and not just as a new product release.
Where: Via Balzan/Via San Marco
Read more about "MateriAttiva" (opened in a new window/tab)
RoBOTL
A sustainability superhero raising awareness on the importance of recycling.
Designed by studio Gio' Forma and Timberland, RoBOTL will be a massive 6 meters-tall robot made of recycled plastic bottles and production scraps from the design industry. It takes its name from Rebotl, the new capsule collection by Timberland that re-uses plastic bottles to produce a fabric.
At the RoBOTL recycling station, visitors will have a chance to recycle their plastic bottle. And they'll also get vouchers for a free reusable bottle by 24Bottles (opened in a new window/tab).
Where: Piazza XXV Aprile
Read more about "RoBOTL" (opened in a new window/tab)
Best Packaging 2019: Imballaggio Loves Ambiente
An installation telling the story of packaging from initial design to recycling, curated by the Italian Packaging Institute. In an era where consumers are becoming more critical about unnecessary packaging, it will be interesting to discover the whole process. In particular, I'm curious to explore the thinking process behind the choice of packaging, in its mix of functionality considerations (choosing the best materials to protect and conserve the actual product) and marketing (considering how the packaging will influence sales).
Where: Via Tito Speri 1
Read more about "Best Packaging 2019: Imballaggio loves Ambiente" (opened in a new window/tab)
Do you feel wood? Touch. Sound. Smell. Shape.
A multi-sensory installation to feel wood surfaces from closer. The event will take place at the new Fiemme 3000's showroom and will also be the occasion to present their new collection.
Fiemme 3000 is the producer of a unique wood flooring that not only doesn't release harmful VOCs, but produces beneficial ones instead! I was truly impressed when I first discovered them and I can't wait to feel their woods!
Where: Via Lanza 4
Read more about "Do you feel wood? Touch.Sound.Smell.Shape." (opened in a new window/tab)
The circular garden
A circular design installation, focused on reuse and recycling of raw materials. Designed by Studio Carlo Ratti Associati and Eni, it will be the perfect excuse to spend some time in the beautiful Botanical Garden of Brera.
Where: Via Fratelli Gabba 10 - Via Brera 2
Read more about "The circular garden" (opened in a new window/tab)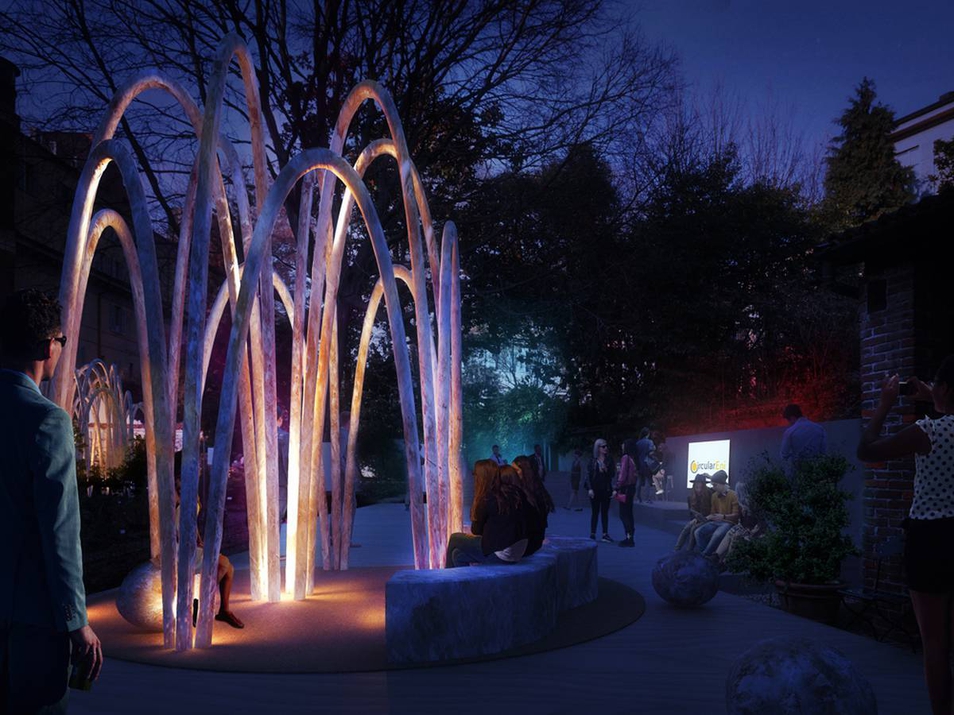 Sustainable design: a sensorial experience
Exhibition showcasing sustainable materials in a path that invites the use of all 5 senses to discover them.
Where: Via Milazzo 8
Read more about "Sustainable design: a sensorial experience" (opened in a new window/tab)
3. 5 Vie Art + Design
It's circular forum
Forum about circular economy. Besides sharing knowledge about what materials, processes and social changes are needed to move towards a circular economy model, the forum also aims at transforming 5 vie in a circular economy district!
Where: Via San Maurilio 21
Read more about "It's circular forum" (opened in a new window/tab)
4. Ventura Future
Future (H)eart(H): 8 Dutch Design visions for a livable earth
Exhibition about bio-design showcasing the work of 8 Dutch designers experimenting with new technologies and materials. The theme of waste and sustainable use of resources will be at the heart of the event.
Where: BASE Milano (2 entrances): Via Tortona 54 - Via Bergognone 34
Read more about "Future (H)eart(H)" (opened in a new window/tab)
5. Lambrate Design District
TRASH2TREASURE WORKSHOP LAB
The theme of this lab is circular design and the aim is starting the conversation on how waste can be reused.
The event will coincide with the opening of the TRASH2TREASURE platform (opening early April 2019). At first, this will be a place for designers to find inspiration and access to up-cyclable materials. And then it will eventually evolve into a circular design shop as well!
Where: Via Conte Rosso 34
Read more about "TRASH2TREASURE workshop lab" (opened in a new window/tab)
Reflection. Design Driven By The Future
This exhibition is dedicated to Braun (the famous household appliances brand) and shows the link between the new trends and evolutions in cooking technologies and basic human needs such as eating, drinking and self-caring.
In particular, the Zero Waste corner will show inspirations on how to re-use food leftovers in new recipes...I'll be taking notes there!
Where: Via Oslavia 17
Read more about "Reflection. Design driven by the future" (opened in a new window/tab)
Be sustainable
This installation – curated by Swiss Krono Group – wants to represent the company's journey towards sustainability. To do that, they'll take inspiration from the famous Italian story of Pinocchio and represent the steps and mistakes that led Pinocchio into a real boy.
Where: Via Conte Rosso 36
Read more about "Be sustainable" (opened in a new window/tab)
6. Isola Design District
3D printed bar
A bar that has been entirely 3D printed using a generative design process by Caracol Studio. The design promises a surreal setting and organic forms...sounds good!
Where: Via De Castillia 26
Read more about "3D printed bar" (opened in a new window/tab)
Algranti Lab
An exhibition showcasing the work of Pietro Algranti, who makes bespoke furniture and objects using raw and recycled materials.
Where: Via Pepe 20/28
Read more about "Algranti Lab" (opened in a new window/tab)
Terramia
Prototype of a home built entirely with sustainable raw materials that still ensure good performance (design by Stephanie Chaltiel). A sturdy bamboo structure allows good volumes and stability whereas clay finishes provide thermal insulation. The home is fabricated by drones and stands as an alternative to traditional fabrication methods.
Where: Palazzo Lombardia
Read more about "Terramia" (opened in a new window/tab)
7. Zona Sant'Ambrogio
Guiltless Plastic
A project launched by Rossana Orlandi in response to the general rejection of plastic. The call has been for designers to give plastic a new life, thus "making it guiltless". The best projects will be exposed at Rossana Orlandi Gallery.
Where: Via Matteo Bandello 14/16
Read more about "Guiltless plastic" (opened in a new window/tab)
Discover the winners of Guiltless Plastic 2019

So here it is, my huge list of must-sees for Milan Design Week 2019!
I'll be sharing my discoveries in real time on Instagram (opened in a new window/tab) during the entire week, so be sure you follow along! And if you'll be in Milan, I hope to see you there!