CityLife is a new district in Milan that successfully merges modern aesthetics, sustainable use of resources, comfort, livability and biophilic design.
The project – that includes office buildings, public services and a huge residential area – is ground-breaking in many ways. And it deserves a full tour!
The area
Starting with a bit of context, CityLife is located in the north-west of Milan, at approximately 2.5 km from Duomo. It comes as a redevelopment of the historic district of Milano Fiera, which is where fairs used to take place before the creation of Rho Fiera (the current venue of Salone del Mobile (opened in a new window/tab)).
Well connected to the highways, City Life is also easy to reach with public transport, including a dedicated stop of the newest metro line M5 called Tre Torri.
Spanning a total area of 366,000 m2, CityLife develops around three skyscrapers that have changed the skyline of Milan. It has been a massive project, and a Permanent Environmental Observatory has supervised all construction works to make sure the surrounding districts did not get too much disturbed by dust and noise.
The project is signed by three amazing names: Zaha Hadid (opened in a new window/tab), Arata Isozaki (opened in a new window/tab) and Daniel Libeskind (opened in a new window/tab). Their words explain well the value of City Life for the city of Milan, for Italy and for the rest of Europe as well:

"Milan is the city that best represents the international face of Italy, comparable to London, Frankfurt and Paris. In this sense, for us, designing in Milan brings us into contact with the most modern face of Italy."

With its 170,000 m2 public park, CityLife is the largest pedestrian area in town and one of the biggest in Europe.
Embodying the principles of biophilic design, the overall area is meant to promote a sense of belonging and safety.
This is indeed one of the main objectives of a biophilic residential area. When residents feel safe and attached to where they live, they will be more prone to spend time outdoors and interact. With time, this will create a true community of people that know and help each other.
Business and shopping
The entire CityLife district develops around three business towers:
Allianz Tower (by Arata Isozaki and Andrea Maffei)
Generali Tower (by Zaha Hadid Architects)
Libeskind Tower (by Daniel Libeskind)

The design and technology used in these buildings are cutting-edge and the first two towers have already gained the LEED-Gold (opened in a new window/tab) pre-certification rating for their innovative and eco-friendly use of materials!
At the foothills of the towers is CityLife shopping district (opened in a new window/tab), the biggest urban shopping centre in Italy.
This is another beautiful example of biophilic design, that features:

Some tables in the seating area are also equipped with task lighting and electrical outlets, creating a great space for studying or co-working.
Residential area
And now to the part I like the most about CityLife; the residential area!
The whole area is made of two complexes of buildings, designed by Zaha Hadid and Daniel Libeskind.
Both of them have a spectacular design and the interiors feature some more biophilic design elements:
huge windows flooding the space with natural light
massive use of wood wall panelling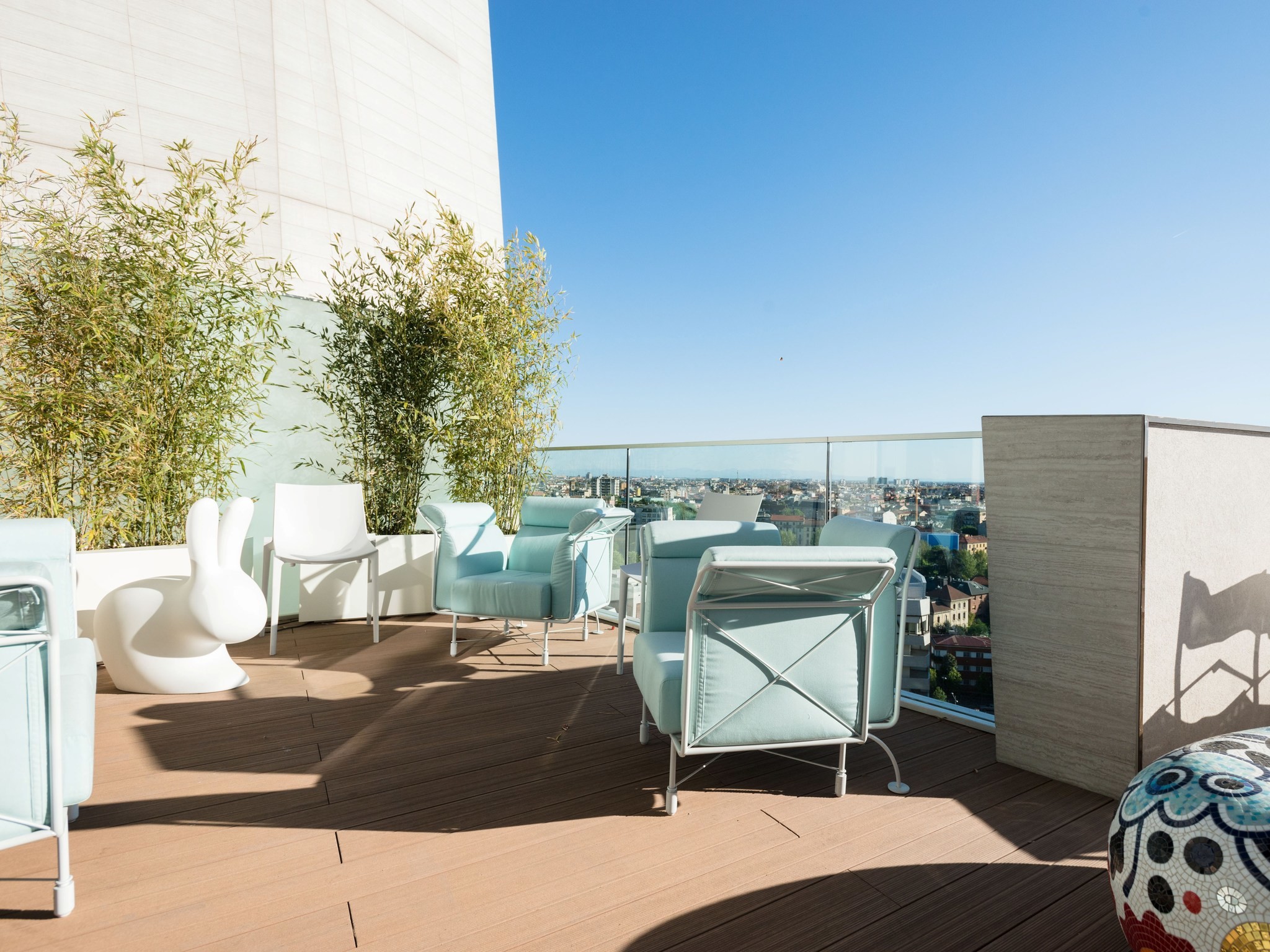 Energy efficiency is key in these residences, with solar panels installed on the roof of all buildings. CityLife is also a zero-emission neighbourhood: it doesn't use any source of combustion and water is the primary source of energy.
Public park
The residential area is surrounded by a huge park that sets such a calming atmosphere that one wouldn't even say it's Milan!
With biophilic design always in mind, the layout of the park is not perfectly flat. Besides providing visual movement, its valleys-and-hills profile creates some hidden areas that give a sense of refuge and are the perfect spot to rest in nature.
One area of the park is even devoted to gardens, with various flowers, fruits and vegetables!
In the middle of the park is BabyLife (design by 02Arch (opened in a new window/tab)), a great example of biophilic nursery featuring:
wood external structure and internal finishes
full-height windows for maximum natural light
outdoor view onto nature created with an internal garden
tree-shaped wood panelling
To make CityLife even more of a discovery, the park is also punctuated by contemporary art installations.
Overall, City Life is a forward-looking district that takes advantage of biophilic design and energy-efficiency technologies to create an area that benefits people and the environment at the same time!